A cycle of seminars "Body. Breath. Conscience. Yoga and Martial arts practices for self-development".
A cycle of seminars "Body. Breath. Conscience. Yoga and Martial arts practices for self-development".
A cycle of seminars on different aspects of yoga and martial arts practices were held in the Lomonosov State University of Fine Chemical Technologies from October, 27th till December, 1st in 2012. This event was made possible thanks to a subsidy from the Department of Physical education received on a competitive base from the Moscow city Department of education.
The organizers (Vadim Dormidontov and Ekaterina Kalashnikova) quickly developed a program, but were uncertain as to whether it would get financing due to high competition from the multitude of such seminars and conferences on yoga, qigong and martial arts in Moscow and all over the world. However, they were successful because the program being offered was unique in that, for the first time, audience participation was free and all lessons were conducted by well-known masters, leaders of their own schools of yoga and martial arts. In addition, the course combined lessons from schools that complimented yoga and this unique combination is what differentiates from others and is the focus of our website.
A summary of seminars and masters.
Seminar №1 "Principles of the splits mastering and core muscles strengthening"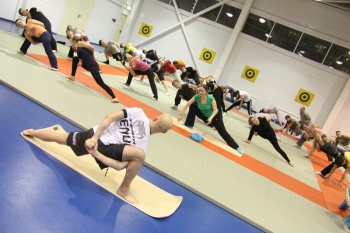 This seminar was conducted by the superb Alexander Razhalovsky, a professional coach who holds four black belts in Taekwondo WTF and ITF. He is also experiencedin Kudo (4 kiu), is a former stunt man and has developed a keen interest in yoga and free-diving. Alexander presented his seminar logically, beginning with training and each participant was able to see their potential for further growth and self-perfection. In addition to the perfect technique of yoga practice, Alexander demonstrated a unique combination of flexibility, endurance and strength and is deserving of his nickname 'Ninja', that was fondly given to him by his students.
Seminar №2 "Yoga Sadhana"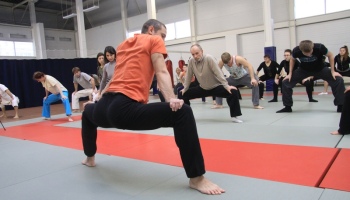 Sergey Kulygin is a repeat World Champion in yoga, a master who needs no introduction to those who studied Yoga in the post-Soviet era. Sergey presented his own system of yoga mastering - "Yoga Sadhana", that offers physiological diversity for key aspects of yoga practice together with a concise theoretical approach and practical session. The seminar began with a considered sequence of prepared warming-up exercises, many of which were absolutely unique and made use of interesting variants of Surya Namaskar system and unorthodox sequences of basic asanas. Overall this seminar may be considered as the most scientific and this is no accident, given that Sergey is a graduate Physical Education.
Seminar №3 "Leg Balance"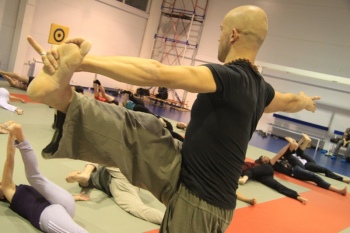 This superb seminar was conducted by Anton Samsonov, a leading instructor from the Ashtanga Yoga Center and candidate for master of Sports of karate and Close Fight. He is also a vegetarian nutrition consultant. The subject itself 'Leg Balance' bridges technical yoga and martial arts in a combination that was of particular interest to us. Anton managed to present a leg balance as the unique instrument of practice, and its qualitative accomplishment is impossible without integration of body, breath and consciousness, as well as balance itself which is a key to the "chitta vritti nirodha" (calming consciousness vibration). Anton's system included elaboration of hip joints in all directions of their mobility that are to be performed with the body upright whilst on one leg. It was a real challenge and a distinctive approach from the Ashantanga master.
Seminar №4 "Correction work with hand and foot"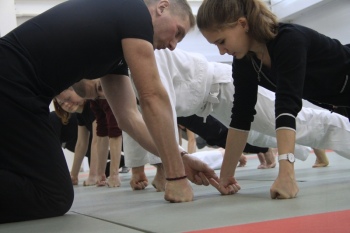 Sergey Babkin is a yoga therapist and an expert in traditional Japanese Martial arts and like , Sergey also links yoga and martial arts. Strong and active hands and feet are 'roots' on which the right bearing depends and and Sergey emphasizes the correct implementation of Asanas with every motion whose approach addresses questions of regular mobility and overall strengthening of joints.. Furthermore, Sergey's practical exercise was complimented by his extensive knowledge of human anatomy, physiology and kinesiology.
Seminar №5 "Budokon lesson"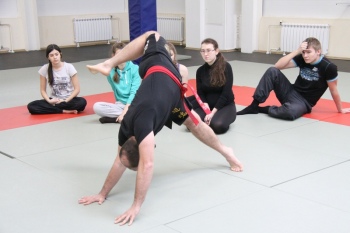 This seminar was conducted by Yoga-Warrior Studio's very own, Vadim Dormidontov. Primarily, it considered basic movements of Budokon yoga and the background of strike technique. Vadim believes that Budokon yoga is the perfect tool for developing one's body for further mastering of martial arts techniques. In the second part of the seminar, Vadim combined all the learnt elements into one rather intense training, in which flexibility and endurance was worked hard while also practicing techniques for perfecting basic strike technique.
Seminar №6"Kata Sanchin in Uechi ryu karate-do"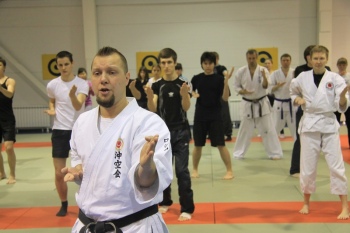 Evgeny Rybin is a master of sports in karate, he has a 4th dan Shito-ryu, a 2nd dan Uechi ryu and is an official representative of Okikukai in Russian Federation. His seminar on Kata Sanchin provides a lense to understanding the process of combining schools. Evegeny unites work with body, breath and consciousness within the framework of karate and the seminar was an excellent continuation of those that preceded it while also highlighted other approaches to the practice. In addition, Evgeny made an impressive presentation of Tamishivari having demonstrated another approach to body raining and in particular, exercises with hand and foot.
Seminar №7 "Fundamentals of yiquan"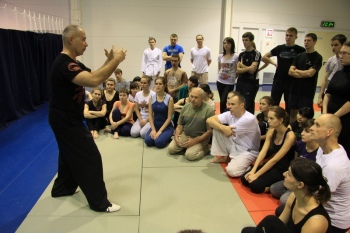 This seminar was conducted by Anatoly Krivodedov (4th dan in karate kekushinkai, an official representative of Beijing Yiquan Academy in Russian Federation). Yiquan is an inside wushu style and unites two aspects of practice: health recovery and fighting. During this seminar Anatoly briefly presented fundamental methods of yiquan and the working of qigong more generally.
Building up, attention, perception, breath - already known elements of practice were presented from the other point of view, which is still less explored in our country.
Seminar№8 "Basic techniques as qigong"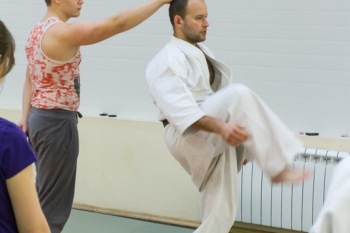 This seminar was conducted by Vadim Dormidontov and Oleg Tkachenko (3rd dan in aikido aikikai). The instructors showed how the perfection in implementation basic karate and aikido techniques is connected with qigong and how it is connected with the sensation, direction and evolution of the energy work feelings.
Seminar №9 "Dynamic exercises in hatha yoga practice"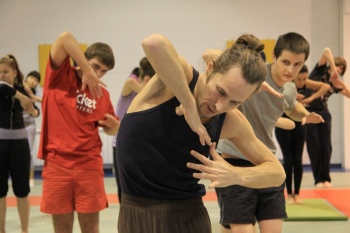 The seminar by Michael Baranov, one of the leading yoga instructors in Russia, was devoted to dynamic exercises for the most part. Of course an instructor who links yoga styles with martial arts (such as Shandor Remete yoga, Simon Borg-Olivier, Cameron Shayne, Duncan Wong and others) the combination of dynamics can vary widely. With some of these instructors Michael is acquainted in person, and he is therefore able to bring a wide spectrum of interesting exercises to the apex where yoga and martial arts meet.
Seminar №10 "Introduction into Ashtanga Vinyasa yoga"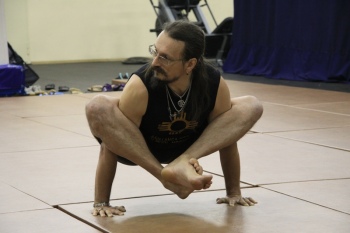 Michael Konstantinovis one of the first certificated Ashtanga Vinyasa yoga instructors and is one of the greatest masters to have joined the seminars. Michael did not simply conducte just another seminar, but rather he resumed the cycle of all the seminars. Instead of the typical two or three hours, this seminar lasted five hours during which time Michael shared his vivid personal experience, a brief theory and extended practical session. It was rather cold in the hall this time and not all of the audience waited to see Michael, but those who did were rewarded with genuine initiation into the yoga practice.
II Festival Yoga and Martial Arts in Lomonosov State University of Fine Chemical Technologies.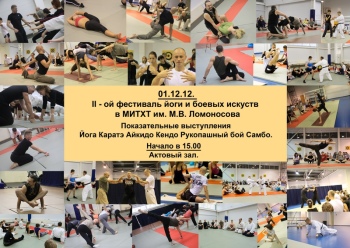 December, 1st , 2012
The cycle of our seminars was closed with a festival of representative yoga and martial arts performances and the organizers express great thanks to those members of the audience who took part in the closing routine!
P.S. The organizers are certain that those who managed to visit all the seminars went away with improved knowledge and were also charged with optimism for further continuation of personal practice. Os and Ommmm....
Watch the program 'Rai club' about these seminars in Lomonosov State University of Fine Chemical Technologies on the TV channel 'Boets'.